Welcome to Roanoke Land Surveying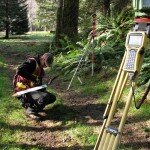 Welcome to our site. We want to provide you with information on Land Surveying in general and specifically in the Roanoke, Randolph County area of Alabama.If you have any land surveying questions, you've come to the right place.
Land Surveying is a very important industry, and it has been around for ages. To know more about the basics of land surveying, you can click here.
Land Surveyors are professionals who measure and make precise measurements to determine the size and boundaries of a piece of real estate.  While this is a simplistic definition, this is one of the most common types of surveying related to home and land owners. To know more about what a land surveyor does, click here.
What to expect from Roanoke Land Surveying
If you need assistance on any land surveying services, we are the best people to help you out. We give nothing but the best service, and we have the best deals in town.
Roanoke Land Surveying offers different land surveying services. We also offer Boundary surveying, Percolation surveying, Septic System Design, Subdivision Design, Topo Surveying and House Site Plans.
How to contact Roanoke Land Surveying?
CALL Roanoke Land Surveying TODAY at 256-854-9503 to discuss your land survey needs.